Come Try Ringette
---
We are hosting FREE Come Try Ringette Events
Interested in learning about ringette? At Come Try Ringette Events, instructors/coaches lead participants through planned on-ice activities to give them an opportunity to skate, pass and shoot the ring, and learn some of the rules of Ringette in a safe environment.
Required Equipment: skates, helmet and heavy gloves. Ringette sticks and rings are provided.
No skating experienced required. All ages are welcome. Bring a Friend!
Join us at one of the following events:
Sunday, September 18 at 11:00 am - Pine Point Arena (Map)
Sunday, October 2 at 4:00 pm - Long Branch Arena (Map)
Sunday, March 5, 2023 at 4:00 pm - Long Branch Arena (Map)
To register send your child's name, age and skating experience along with the date you'd like to attend to comeplay@etobicoke-ringette.com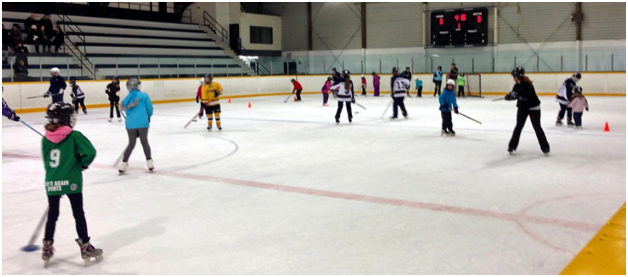 Ringette Demos for Classrooms or Sparks, Brownie or Girl Guide Groups
If you would like us to come out and do a Ringette demonstration for your group or class, please contact Wanda Critch at: comeplay@etobicoke-ringette.com and we will make arrangements to come out and see you!!!
Over the years the Etobicoke Ringette Association had the pleasure of presenting a fun, interactive demonstration of the sport of Ringette to Etobicoke youth. We provide rings, Ringette sticks, and nets for the kids to get a real feel for how the game is played. We start with practice drills that we would usually do on the ice to help the players learn about passing the ring one to another. Then we move on to shooting on the nets with our volunteer goalies. Finally, if time permits, we get into a game putting our new skills into action. It's a fun time for all involved!
Gym Ringette Equipment
Our gym ringette is available to loan out to groups or classes. The equipment is specifically designed for use on gym floors. Please contact Wanda Critch at: comeplay@etobicok-ringette.com for details.